John Steiner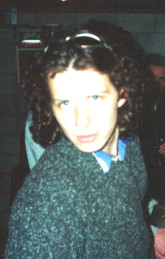 NICKNAMES
---
Steiny, Steindog, Big Poppa Pump, Steiner Recliner, SteinBurger, SteinLagered.
PERSONAL BACKGROUND
---
Born 20/11/79 in Wellington. Schooled at Hillcrest High School Hamilton. 6 foot 2 inches tall, Olive complexion with piercing blue eyes and a great smile...Phone 03 4774660: Females only.
FAVOURITE PASTIMES
---
Music, 'Socialising', Sport
CAREER GOALS AND AMBITIONS
---
Make lots of money, and marry Britney Spears.
FAVOURITE POSITION
---
The Favourite Position really dependes on the willingness of the female!
PLAYER #
---
32
FOOTBALL BACKGROUND
---
Hillcrest High School 1XI, Waikato Secondary Schools, Ballboy at 3 Chatham Cup Finals… Hey when your'e ten years old that's pretty darn exciting!
FAVOURITE FOOTBALL MOMENTS
---
Escape to Victory: Sly saves a penalty, Ossie Ardiles flicks over his head and Pele wins with a Bicycle kick. Great Game.
WORST FOOTBALL MOMENT
---
Czech Republic 0 vs Holland 1. They just couldn't put the ball in… I lost a bundle.

FAVOURITE TEAMS
---
Arsenal, The Chiefs, Juventus, Wolverhampton, The Southern Comfort.
FAVOURITE PLAYERS
---
Zinedane Zidane, Edgar Davids, Steve Bull (Ex-Wolverhampton)
FOOTBALL AMBITIONS
---
Play hard, win well, and drink more.
BEST ADVICE EVER BEEN GIVEN
---
| | |
| --- | --- |
| | Live so that you wouldn't be ashamed to sell the family parrot to the town gossip. |
BEST QUOTES EVER HEARD
---
FIVE FAVOURITE SONGS OF ALL TIME
---

1. Rocky Theme
2. Leaving on a Jet Plane
3. Better Man (Frank Bennett Cover Version)
4. Pink
5. Bad Medicine.
FIVE FAVOURITE MOVIES OF ALL TIME
---

1. Top Gun
2. The Blues Brothers
3. Braveheart
4. Life of Brian
5. Spaceballs.
FIVE HOTTEST WOMEN
---

1. Julia Roberts
2. Angelina Jolie
3. Britney Spears.
WORST PUBLIC DISPLAY
---
Caught scoring during One World of Sports live telecast of Waikato vs Otago. Was on the big screen at the ground and live across NZ.