Matt Sides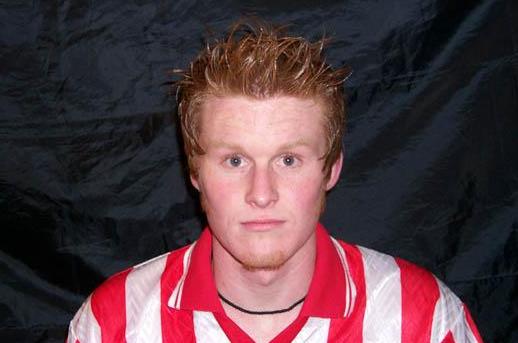 NICKNAMES
---
Sidies, Sidesy, EL Capitaine, G.P, Ginger Tosser.
PERSONAL BACKGROUND
---
Born Balclutha 1978.
Educated @ Balclutha kindy, Helen Deem kindy, St Clair Primary, Macandrew Intermediate, King's High School, Otago Polytechnic, Dunedin College of Education.
Eldest of three.
Diagnosed with Diabetes 1994, sense of humour 1989, and ginger publics 1995.
FAVOURITE PASTIMES
---
Soccer, playstation, internet, surfing, working out, general vegging, statistical analysis of football, t.coll, coaxing little bro', fantasising about the perfect life: dreaming.
CAREER GOALS AND AMBITIONS
---
Of course I want to be employed as the new Diet Coke delivery man to a female dominated institution or an editor of a mens magazine (FHM, Loaded, Playboy - all for the articles), but if all else fails, I'd like to be a teacher.
FAVOURITE POSITION
---
Um...Centre back or Deep lying Centre Midfield (if you will)
PLAYER #
---
24 or 12
FOOTBALL BACKGROUND
---
Dunedin City 1987-1992. Mac Int 1990-1991. KHS 3rd Form Team 1992. KHS 4th Form Team 1993. 2nd Eleven 1993-1994. Seacliff 1994. 1st Eleven 1995-1996. Otago U16 1994. NZSSFA satelitte tourny 1994. NZSSFA premier tourny 1995 & 1996.
Caversham 1997 - Present.
FAVOURITE FOOTBALL MOMENTS
---
Captaincy of the Feltcher Cup 2000 team. Surgery on knee 1999. Making the Otago U16 team 1994. Most improved Dunedin City 9th grade 1987. Captain KHS vs Christchurch BHS 1996 (final game for school).
WORST FOOTBALL MOMENT
---
Definitely the disastrous knee inury endured in Dec 1997. Not making Otago Rep teams '90,'91,'92,'93. Fiasco's on & off the pitch during Feltcher Cup 1999 - unprofessional.

FAVOURITE TEAMS
---
Liverpool, Crystal Palace, Real Madrid, Dunedin City (juniors) '90-'91, Feltcher Cup 2000, Confederation's Cup All Whites.
FAVOURITE PLAYERS
---
Roberto Carlos, Stevie McManaman, David Beckham, Andy Duncan, Steve Nichol(old school LFC), Craig Johnson(old school LFC), Maradona, George Best, Alexi Lalas.
FOOTBALL AMBITIONS
---
To one day carry the pride and passion of the NZ footballing public on my shoulders in the All Whites for the road to the 2006 World Cup & make an appearance for the +35 Cavvy team when my time's due.
BEST ADVICE EVER BEEN GIVEN
---

"if it has two legs, two arms, two eyes and is a woman."
"Don't dive in."
"Shop around."
"GET OVER IT."
BEST QUOTES EVER HEARD
---

"No barriers, no boundaries" - Jerry Maguire.
"Victims, aren't we all" - Brandon Lee(The Crow).
"It's fucked. They're just fuckin' fucked" - Tony Martin.
"Second is the first loser" - No Fear.
"Don't fuck with me, I know who I am and I'm not taking any shit." - Rage Against the Machine
"It doesn't matter what shape your balls are as long as they are in play" - Christopher Martin Valli
FIVE FAVOURITE SONGS OF ALL TIME
---

1. Music Sounds Better with you - Stardust.
2. I'm on Fire - HLAH.
3. Rearranged - Limp Bizkit.
4.Hey Boy Hey Girl - Chemical Brothers.
5= Betterman - Pearl Jam.
5= Got The Life - Korn.
5= Mutilated Lips - Ween
5= Missionary - Shihad
5= Swords - Leftfield
FIVE FAVOURITE MOVIES OF ALL TIME
---

1. The Crow.
2. Lock Stock and Two Smoking Barrels.
3. The Matrix.
4. Waterboy.
5. Mall Rats.
FIVE HOTTEST WOMEN
---

1. Natasha Henstridge.
2. Milla Jovovich.
3. Denise Richards.
4. Angelina Jolie.
5= Cameron Diaz.
5= Sarah Ulmer
WORST PUBLIC DISPLAY
---
Ther was Minger falling asleep on the toilet, Boss falling asleep in a freezer @ the 24, Steiner's near death experience involving his walking style, my 21st being remembered for Shaggy's antics, BUT my worst would be end of season '98. Drunken antics, vomiting, frolicking women on the dance floor, McDonalds and a long walk home! Aye Shags.