Blair Muir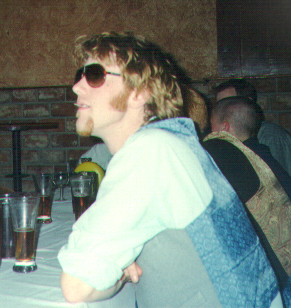 NICKNAMES
---
Shaggy, Shaguar, Shagadelic, Shagabull, Shaglatte', Blairwa, Shags
PERSONAL BACKGROUND
---
Born Dunedin 1979. Educated at Rachel Reynolds Kindergarten, Forbury Primary School, Macandrew Intermediate, King's High School, Otago University. Love the outdoors and love seeing the sites.
FAVOURITE PASTIMES
---
Hunting and Fishing. Listening to music. Soccer and sport in general. Playstation know and then. Laxing out with a beer and good company. Sun, surf, and s..
CAREER GOALS AND AMBITIONS
---
To be the oil boy for International Bikini competitions, or failing that, a Sports Physiotherapist.
FAVOURITE POSITION
---
Center Back or Center Midfield
PLAYER #
---
36 or 5.
FOOTBALL BACKGROUND
---
Dunedin City '89. Speedink Technical '90 Roslyn Waikari '91-'92 (a youth footballing whore). Macandrew Intermediate '91-'92. KHS 3rd/4th form teams. KHS 1st Eleven '95-'97. Caversham AFC '98-present. Otago U12 - U18.
FAVOURITE FOOTBALL MOMENTS
---
Being undefeated for the KHS 3rd fom team - 1993.
Gaining 3rd place in the National U17 Tournament in Rotorua 1996 - The best any Otago team had done.
Winning the Feltcher Cup - 2000(oh...yes we have made it.)

WORST FOOTBALL MOMENT
---
Being 2-1 up against Auckland Grammer with 10 minutes to go and losing 3-2(1997). Getting relegated to 1st division for Otago in 1994. Being put out for the season with a knee injury - 2000!!!

FAVOURITE TEAMS
---
Liverpool, England, Cavvy feltchers, The Mighty Ducks
FAVOURITE PLAYERS
---
Michael Owen, Sol Campbell, Horndog, Stone Cold.
FOOTBALL AMBITIONS
---
Hopefully to have an Arthroscopy done on the posterior horn of my lateral meniscus in my left tibio-femoral joint and get adequate rehabilitation to return to the field of play as soon as possible.
BEST ADVICE EVER BEEN GIVEN
---
"You are only on this Planet for a short time - Make the most of it." "Watch the ball from the hand."
BEST QUOTES EVER HEARD
---
Ironic isn't it - the organ that can allow you to know the difference between black and white - is called gray matter.
FIVE FAVOURITE SONGS OF ALL TIME
---
1. Betterman - Pearl Jam.
2. Pacifier - Shihad.
3. My Own Worst Enemy - Lit.
4. Out of Control - Chemical Brothers.
5. Lightning Crashes - Live
FIVE FAVOURITE MOVIES OF ALL TIME
---
1. The Matrix.
2. Lock Stock and Two Smoking Barrels.
3. American Pie.
4. Any Given Sunday.
5. The Goonies.
FIVE HOTTEST WOMEN
---

1. Caprice.
2. Sarah Michelle Geller.
3. Cori Nadine.
4. Jennifer Love Hewitt.
5. Britney Spears.


WORST PUBLIC DISPLAY
---
It was at a mate's 21st - enough said at this stage