Mick Pennell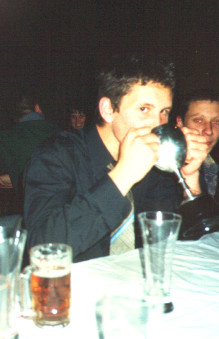 NICKNAMES
---
Penal, Penile, Ruby, Charlie Brown, Two-Can Man.
PERSONAL BACKGROUND
---
Born in England. Moved to New Zealand. Learned to walk, read, and write. Joined Feltchers.

FAVOURITE PASTIMES
---
Attending "Peter Ritchie's School of Football Excellence."
CAREER GOALS AND AMBITIONS
---
Move away from Dunedin
FAVOURITE POSITION
---
Centre Midfield
PLAYER #
---
8
FOOTBALL BACKGROUND
---
Coached by Grim (daddy) from an early age. Joined Cavvy 7th grade team. Moved to Roslyn Waikari aged 9. One year in KHS 3rd form team. Otago U12, U13, U14, U15, U16.
Joined Feltchers in 1999.
FAVOURITE FOOTBALL MOMENTS
---
Scoring two second half goals to level match against Western Bay of Plenty 3-3.
WORST FOOTBALL MOMENT
---
Picky missing a penalty and us losing 4-3 to Western Bay of Plenty in injury time (see above.)

FAVOURITE TEAMS
---
Arsenal AFC
FAVOURITE PLAYERS
---
Vinny Jones, Freddy Ljiunberg, Thierry Henry.
FOOTBALL AMBITIONS
---
To win the Feltcher Cup and go from there.
BEST ADVICE EVER BEEN GIVEN
---
"Losing is for cunts." - Tony Martin
BEST QUOTE EVER HEARD
---
"...and if anyone does anything that's fucked...well that's just fucked." - Tony Martin.
FIVE FAVOURITE SONGS OF ALL TIME
---

1. Purple Haze - Hendrix.
2. Dazed and Confused - Led Zep.
3. The Wasp - The Doors.
4. Vera - Pink Floyd.
5. Hey Joe - Hendrix.
FIVE FAVOURITE MOVIES OF ALL TIME
---

1. Pulp Fiction.
2. Lock Stock and Two Smoking Barrels.
3. Dazed and Confused.
4. Resevoir Dogs.
5. Taxi Driver.
FIVE HOTTEST WOMEN
---

1. Wilma Flintstone.
2. Linda Ritchie.
3. Betty Rubble.
4/5. Patty & Selma.
WORST PUBLIC DISPLAY
---
Laughing at a disabled person in town and then getting a smacked bottom (aged 6)