Michael John Pickworth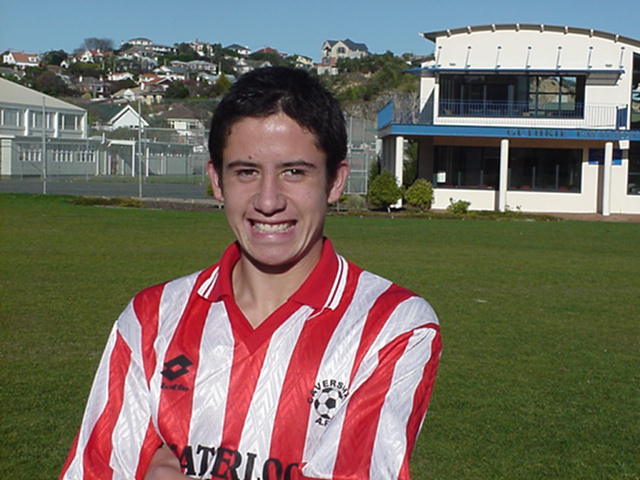 NICKNAMES
---
Picky, and Picky Pooha
PERSONAL BACKGROUND
---
Born in Christchurch, lived there as a kid. Moved to Dunedin at about seven years of age.
And i'm a Kings' boy!
FAVOURITE PASTIMES
---
Catching the first fish, Drinking the first beer, Kissing the first chick.
CAREER GOALS AND AMBITIONS
---
Be the next "Bill Gates", with Piki Products booming the market.
FAVOURITE POSITION
---
Left Midfield
PLAYER #
---
10
FOOTBALL BACKGROUND
---
Played for Dunedin Junior FC, Otago grades 12th - 16th, and a couple of NZ soccer camps
FAVOURITE FOOTBALL MOMENTS
---
Playing Waikato at tournament. "Their coach commenting about me, telling me that i'm going places"...yeah
WORST FOOTBALL MOMENT
---
Missing a penalty against Western Bay of Plenty, losing 4 - 3.

FAVOURITE TEAMS
---
Barcelona, Ajax, and Kings 1st XI (1999) under an expert supercoach...
FAVOURITE PLAYERS
---
Mick Pennell and Tim Horner (ah yeah), and Luis Figo
FOOTBALL AMBITIONS
---
WIN THE FELTCHER CUP
BEST ADVICE EVER BEEN GIVEN
---
"Go hard out" - Mr D.P. Patterson
BEST QUOTES EVER HEARD
---
"O for Awesome" - David Tua

FIVE FAVOURITE MOVIES OF ALL TIME
---

1. Pitch Black
2. Black
3. Wedding Singer
4. Happy Gilmore
5. Rush Hour

FIVE HOTTEST WOMEN
---

1. Jessica Simpson
2. Mrs Cox - Kings' High School teacher
3. Anna Kournikova
4. Britney Spears
5. Mandy Moore
6. Sarah Michelle Gellar
Someone can't count Michael!?!
WORST PUBLIC DISPLAY
---
As a four year old i remember trying to hang myself at a park...for fun. But i tied the knot incorrectly, and fell and broke my leg! Dumbarse!