Michael Gray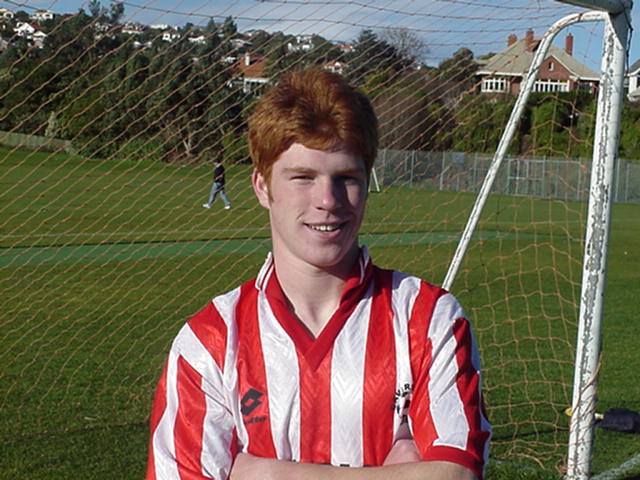 NICKNAMES
---
Ginge, Red, Minger, GI, Inger Ginger Ninja Minger, and other variations
PERSONAL BACKGROUND
---
Born in Auckland. Educated in Dunedin at : High Street School, College Street School, Macandrew Intermediate, King's High School. Lived in Henderson (Auckland), Morrnington, Caversham, and Green Island (Dunedin).
FAVOURITE PASTIMES
---
Skating, Snowboarding, Surfing, PlayStation.
CAREER GOALS AND AMBITIONS
---
To be a Graphic Designer/Animated Designer. To make more than $100,000 a year.
FAVOURITE POSITION
---
Striker
PLAYER #
---
15
FOOTBALL BACKGROUND
---
Started at Mornington, then Caversham (13th grade champions - I was top goal scorer). KHS 1st Eleven for 4 years '97 - '00. Otago U12, U13, U14, U18.
Caversham Senior football at present.
FAVOURITE FOOTBALL MOMENTS
---
Finally being allowed to play at age 6 after 2 years of pestering my parents
WORST FOOTBALL MOMENT
---
Breaking my nose 10 minutes into the Linwood Cup Final against OBHS.

FAVOURITE TEAMS
---
Liverpool, Real Madrid.
FAVOURITE PLAYERS
---
Steve McManaman, Patrik Berger
FOOTBALL AMBITIONS
---
None really. I'll see what happens.
BEST ADVICE EVER BEEN GIVEN
---
Don't expect to find life worth living. Make it that way!
BEST QUOTE EVER HEARD
---
"Girls grow into woman. Boys just get bigger."
"Snowboarding's for WEIRDO's" - Willie Thom
FIVE FAVOURITE SONGS OF ALL TIME
---
Anything that's punk or ska, old or new school.
All the Small Things - Blink182
FIVE FAVOURITE MOVIES OF ALL TIME
---
1. Happy Gilmore.
2. Biodome.
3. Endless Summer Two.
4. Lock Stock and Two Smoking Barrels.
5. Dazed and Confused.
FIVE HOTTEST WOMEN
---
1. Karla Costa.
2. Milla Jovovich.
3. Cameron Diaz.
4. Jennifer Love Hewitt.
WORST PUBLIC DISPLAY
---
Going for a piss against an Oamaru stone wall whilst in a drunken state and having the backspray soak the front of my pants!