Hayden Trevor Meikle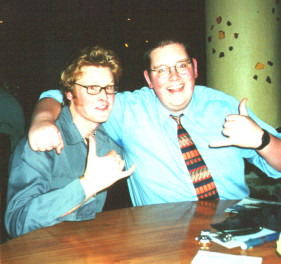 NICKNAMES
---
HT, Trev, Meiks, The Big Meiks, Kobus, The Oamaru Love Stud

PERSONAL BACKGROUND
---
Born in a woolshed in Oamaru on August 10, 1977
Parents Trev and Gail, brothers AJ and Zeke. Educated at Ardgowan Primary School (roll of 24) and Waitaki Boys High School (go the red and blacks!!!). Two years at Teachers College before flunking out. Studied Journalism at Aoraki Polytechnic in Timaru in 1997. Netball writer at the Otago Daily Times 1998 - 2000. Oamaru Mail sports reporter 2000 - beyond. Cavvy Feltcher Media Liaison 1999 -
FAVOURITE PASTIMES
---
Reading sports books, watching sport, playing sports games on the PlayStation (especially This is Football, obviously), drinking Diet Coke, and talking about Oamaru.
CAREER GOALS AND AMBITIONS
---
Write an award-winning book about a season with the North Otago rugby team
Get a job for an American newspaper reporting on college football or basketball
Be Steve McManaman's agent
Be Michael Slater's agent.
FAVOURITE FELTCHER
---
"Captain Marvel" - Matthew Francis Sides...Every great team needs a great leader.
FOOTBALL BACKGROUND
---
Goalkeeper for Oamaru Under-11 team in 1988. Scored two goals in one game when played up front. Goalkeeper and coach of Hayden's Heroes indoor soccer team in 2000.
Feltcher fan since 1999.
FAVOURITE FOOTBALL MOMENTS
---
Scoring two goals for Oamaru Under-11 in 1988. Michael Owen's goal against Argentina at the France World Cup in 1998. New Zealand Under-17 team beating Poland in 1999
WORST FOOTBALL MOMENT
---
Liverpool losing 2-0 to Arsenal on the last day of "Fever Pitch" season. Steve McManaman moving to Real Madrid. Watching the Feltchers go down 8-2 to Tech.
FAVOURITE TEAMS
---
Liverpool, Real Madrid, AC Milan, Bayern Munich, England, All Whites, Football Kingz, and Caversham.
FAVOURITE PLAYERS
---
Steve McManaman, Michael Owen, Robbie Fowler, Steven Gerrard, Paul Ince, Kevin Keegan, Luis Figo, Raul, Andriy Shevchenko, Wynton Rufer, Chris Killen, Aaron Burgess, Blair Scoullar, Nathan McCullum, and Matt Sides.
FOOTBALL AMBITIONS
---
Drink out of the Feltcher Cup at the end-of-season keg party. Kingz to win the Australian league. Watch the All Whites play in the World Cup 2002. Visit Anfield. Captain the Oamaru Mail indoor team.
BEST ADVICE EVER BEEN GIVEN
---
Follow Liverpool
BEST QUOTES EVER HEARD
---
"Seize the day boys" - Dead Poets Society
"I never forget a pussy" - Austin Powers
"Your heart is free. Have the courage to follow it" - Braveheart
"If the milk turns out to be sour, I ain't the kind of pussy to drink it" - Lock Stock...
"Choose Life" - Trainspotting
"Did you ever find Bugs Bunny attractive when he put on a dress and played a girl bunny?" - Wayne's World

FIVE FAVOURITE SONGS OF ALL TIME
---

1. Wonderwall - Oasis
2. Don't Look Back in Anger - Oasis
3. Run - Collective Soul
4. The Drugs Don't Work - The Verve
5. A Long December - Counting Crows
FIVE FAVOURITE MOVIES OF ALL TIME
---

1. Braveheart
2. Stand By Me
3. The Shawshank Redemption
4. Goodbye Pork Pie
5. American Pie
FIVE HOTTEST WOMEN
---

1. Katie Holmes (Can I be Dawson to your Joey?)
2. Britney Spears (Hit me one more time)
3. Sarah Michelle Gellar (Schvergen Kyergen)
4. Neve Campbell (Party with me anytime)
5. Reese Witherspoon (Or a fork, or a knife).
WORST PUBLIC DISPLAY
---
Losing one's house keys at a work's do...knocking on one Feltchers window at a lazy 4am...and saying "Sidies, I've had a shocker!" (The keys were in his letterbox the whole time! Dumbarse!)