Tony Martin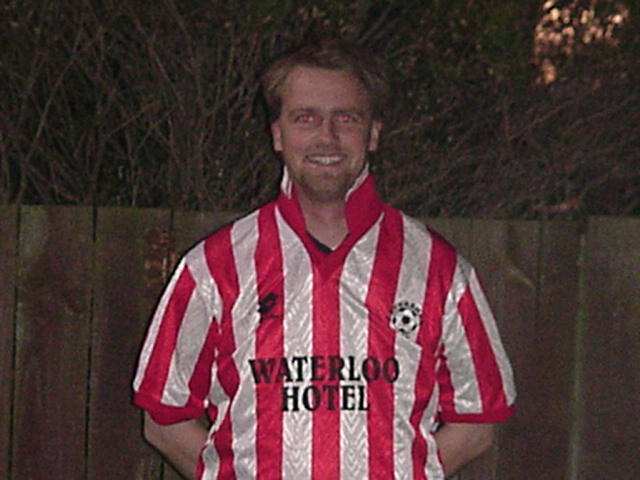 NICKNAMES
---
Git, Yogi
PERSONAL BACKGROUND
---
Born Christshurch. Educated: Corstophine Primary, Macandrew Intermediate, King's High School, Otago University, and Dunedin College of Education.
FAVOURITE PASTIMES
---
Watching Movies, Playing and listening to music, reading.
CAREER GOALS AND AMBITIONS
---
To become New Zealand's Minister of Education.
FAVOURITE POSITION
---
Defender

PLAYER #
---
31
FOOTBALL BACKGROUND
---
Caversham AFC, Roslyn Waikari AFC, Ellerslie AFC, Western Springs AFC, Otago U12 - U19
FAVOURITE FOOTBALL MOMENTS
---
KHS 3 Shirley Boys 0 - 1987, thus becoming the first KHS team to win all 4 Interschools.
WORST FOOTBALL MOMENT
---
Losing a penalty shootout to Western - 1992 Chatham Cup

FAVOURITE TEAMS
---
Manchester United. Stranraer(Scotland).
FAVOURITE PLAYERS
---
Steve Coppell, Graham Carr, Steve Woodin, Jim Letts.
FOOTBALL AMBITIONS
---
To retire after winnig the Feltcher Cup.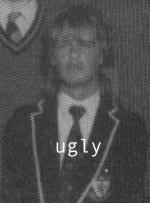 BEST ADVICE EVER BEEN GIVEN
---
Forget the basic food groups and just remember pies, cakes, and lollies - Craig Davies.
BEST QUOTE EVER HEARD
---
Pig hunting is the sport of Kings, not Horseracing. God you guys are stupid - Jim Letts.
FIVE FAVOURITE SONGS OF ALL TIME
---
1. All down the Line - Rolling Stones.
2. Tangled up in Blue - Bob Dylan.
3.Mane of Stone - Stone Roses.
4.Moving on Up - Primal Scream.
5.In the Street - Big Star.
FIVE FAVOURITE MOVIES OF ALL TIME
---
1. la Dolce Vita.
2. It's a Wonderful Life.
3. Spinal Tap.
4. The Third Man.
5.The Band Wagon/Battleship Potemkin.
FIVE HOTTEST WOMEN
---
1. Julie Christie(in Dr Zhivago).
2. Cyd Charrise.
3.Nico.
4. Sophie Loren.
5. Kathy Ireland.
WORST PUBLIC DISPLAY
---
Too many to mention but they generally involve the Captain Cook Tavern, wet clothes, or the hansel and Gretal game. Enough Said.